Family Owned Home Builder
Very importantly, we do business in a way that creates a joyful and exciting life experience for every family we serve. This is our calling. It is a great responsibility and privilege to do this important work. This is who we are, what we do, and why our customers say they chose a Finer Home.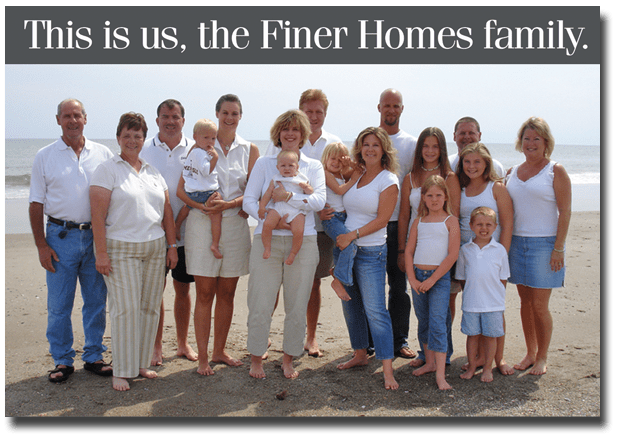 Finer Homes is a family owned home builder in Chesterfield VA. Over 40 years strong, Finer Homes is one of the longest lasting family owned home builders in the Chesterfield area. Founded by Clay and Sue Holt in 1981, all four children have worked in the family business. 
Though we primarily build new construction homes in Chesterfield, VA, Finer Homes is proud to also bring our house plans to the vibrant Richmond metro real estate market and surrounding areas. We will also build your Finer Home on land you already own. 
We have a simple mission: to build high-quality new construction homes for sale year in and year out. We market them at the absolute best price possible and do business in a way that creates a joyful and exciting experience for every family we serve. It's a great responsibility and privilege to do this important work.
One of the most meaningful and important things you can put in a new home cannot be found on a "Standard Features List."
Everyone shopping for a new place to call home is rightfully focusing on "THE HOUSE". They want to know:
Where is it?

What's in it?

Is it quality construction?

Is it a fair price?

What's the builder's reputation?

How costly are the optional features?
At Finer Homes, we're ready to answer these questions and any others you may have. We have one intention: to make this one of the most wonderful and meaningful experiences of your life. We get it. It's not just about the house.
In the end, it is about you and your family making a house into a home.
The dialogue between client and architect is about as intimate as any conversation you can have, because when you're talking about building a house, you're talking about dreams. ~ Robert Stern
Finer Homes' award-winning house plans represent hours of study and research by our design team. These plans have been perfected over time. They'll offer your family the very best in flow, function, beauty, and design. Our customers at Finer Homes don't have to settle for the stock house plans we offer if revisions – big or small – would make their homes fit their specific, unique needs.
That's where Jay Mauck, our house plan designer, comes in. Jay works with our customers to modify existing house plans for their families. From something as simple as shifting interior walls, to more complex changes such as making the home fully handicap accessible, to completely customizing kitchens and master baths; Jay can translate your dream into a living reality. With our thorough training and cutting-edge technology, we make house plan revisions free to our homebuyers – as it should be! We are proud to provide the greatest expertise available to our Finer Homes customers so that they can live their best lives possible in our homes.
If you can dream it, Jay can draw it!